Teaching model OSA-2002A, implant practice model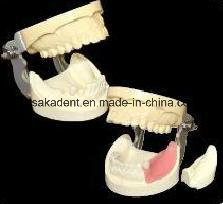 This model is to serve for demonstration in mouth protection and relative clinical teaching.
Function: Â The alveolar bone, which is used to implant practice section on this model, have cortical bone and cancellous bone structure, the section on the model used for the implant internship can be replaced, and the model can be used repeatedly.
About our company
Foshan OSAKA Export Limited Company ,is the Branch of HongKong Osakadent Group Limited , Both are the Professional and Honest Dental Supplier . We are One of the Leading Dental suppliers with All kinds of Dental Products in Foshan . (as we konw Foshan is the well-known city of Dental ).
98% of our Dental Products are passed the TUV CE, ISO13485,SGS, 5% of them are passed the FDA (Food and Drug Administration in USA ) . All our A quality products have Warranty and good After-sale service . We also will teach you How to use and Maintenance. We have Professional and Strong Export sales Team ,we work very carefully just to fulfill your Requirments. We are Young, but we are full of Power!
We have many good Products with Competitive Price and good Service ,like Dental Endodontic Instrument ,Dental Orthodontic Product, Dental Handpiece, Dental Chair unit, Dental X-ray unit and Digital Sensor , Dental Implant Machine, Screw post, Carbide / Tungsten /Diamond Burs, Dental Oral Camera, Scaler, Endo box, Dental Consumbles,Dental Autoclave, Laser,and so on !
Goji Powder,Fresh Goji Berries,Lycium Chinense Miller
Goji Seeds Co., Ltd. , http://www.chdriedgoji.com